Mediterranean Style Spaghetti Squash
---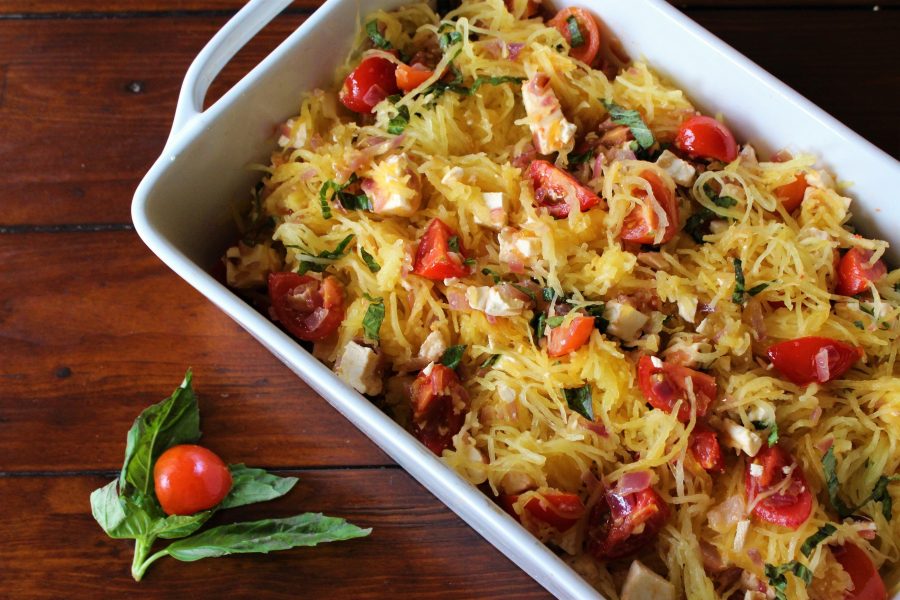 Spaghetti squash is such a nice alternative to traditional pasta when you are craving something light. Additionally if you are trying to avoid gluten, it's a great substitute. I like it for the delicate flavour and versatility, and in this recipe the robust ingredients really make it come alive. Roasting the squash will give it the best flavor, but if time is tight, steaming it in the microwave is a fast method.
Ingredients:
1 large spaghetti squash, halved and seeded
1 tablespoon olive oil
1 cup red onion, diced
2 cups cherry tomatoes, quartered
2 cups feta cheese, chopped
1 cup fresh basil, chopped
Salt & Pepper to taste
directions:
Place the spaghetti squash into a large bowl with a lid and add a few tablespoons of water. Steam for 20 minutes or until the flesh is soft. Alternately, you can roast the squash in the oven for 45 minutes in a large casserole dish covered with foil. When the squash is tender, use a fork to remove the spaghetti-like threads into a large bowl. Meanwhile, place a skillet on the stove over medium-low heat and add the oil and the onion. Saute for 5-10 minutes until the onion is soft. Add salt and pepper and remove from heat. Stir in the remaining ingredients and toss. The heat from the skillet will warm the tomatoes and soften the cheese. When the squash is ready, toss with the tomato mixture and serve.